MMT/Moncktons Goes Mobile With Newly Redesigned Website!
Customers Can Now Access mmtproductivity.com From Any Mobile Device
MMT/Moncktons is proud to announce that it has a newly designed, easy-to-use, mobile ready website. The site is compatible with today's browsers and mobile devices, and will provide an engaging user experience – videos, menus, buttons and general usability have been updated for ease of use. Visitors are welcomed with visual and architectural organization – a clean uncluttered design, easy to use navigation, and informative pages – help customers find the information they need to aid in their machine tool buying process. With the partnership between MMT and Productivity in full swing, the MMT website layout and design, parallels that of Productivity, creating continued synergies and consistencies between the two sites. That way, shared services such as Tooling & Accessories, Robotics & Automation, Integrated Supply and others, will be easy to navigate and a reminder to customers that they are buying products and services from trusted and reputable companies.
Site highlights:
Products and services are nicely categorized
Product information easy to access
Search function makes finding things easy
View product videos in the Video Library
Convenient ordering for tooling and accessories
Extensive tooling catalog library
Welcome to the new AND improved MMT site. Not only does it have a fresh, contemporary look, it has all the tools a customer will need at their fingertips.
With a new responsive design, customers can view and easily navigate the MMT website from any device.
Now a customer can easily find Machine Tool info by category or by machine tool builder.
New Search feature allows customers to quickly find what they're looking for on the MMT site.
Customers can find useful tools and documents under the Resources tab including Calculators, Safety Data Sheets (SDS), Video Library, Tips & Tricks and more.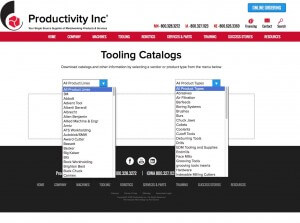 Now that MMT and Productivity have partnered, customers have access to over 1,000,000 products & services offered by Productivity Inc. The Tooling Catalogs page at Productivity Inc is now faster and allows customers to easily find a catalog by vendor or by product line.